Comfort Hemp Dog Chews feature 10mg of Hemp Oil that helps deliver a load of health benefits to your pet. A delicious snack made with just 7 ingredients, our Comfort chews will help bring a sense of calm and relief that your pet will love. With Organic, Vegan, Gluten Free and Human Grade ingredients (ones you can pronounce!), you can be sure your pet is ingesting a natural, healthy and organic solution.
Active Ingredients
Using a process called CO2 extraction, pure oil is extracted from the hemp plant and involves no processing, ensuring the purest form of hemp oil. Full Spectrum Hemp oil helps support calmness, healthy mobility and relives anxiety in your pet. It is also an antioxidant that is packed with rich minerals to help give your pet essential nutrients.
Inactive Ingredients
Oat Flour
Apple Sauce
Coconut Oil
Almond Butter
Potassium Sorbate
Sodium Propionate
Recommend Usage and Doses
Give your furry friend
Comfort Hemp Chews
 to help give them a sense of calm, improve overall health and reduce anxiety. These chews also have the added benefit to: 
Deliver powerful Antioxidants 
Reduce anxiety from common stressors such as Thunderstorms, Car Rides, Mail men, separation anxiety and more
Provide essential nutrients for aging dogs
Help mobility and reduce Joint Pain
Recommended Dosages: 
1 Chew per day for Dogs under 25lbs
2 Chews
per day for Dogs 26-75lbs 
3 Chews
per day for Dogs 76 lbs and up
Benefits of Comfort Hemp Chews
The main focus of our Comfort chews is to help deliver a calming sense and improve mobility in your best buddy. Comfort chews use 10mg of Hemp Oil which has been proven to help these areas. 
Comfort Chews and the Hemp Oil inside are also high in antioxidants and rich in minerals that provide essential nutrients for your dog.
Comfort chews are also made from 100% natural, human-grade, Gluten-free and vegan ingredients. This means your pet is getting the best of the best and no nasty chemicals found in mass produced dog treats.
Is Hemp Oil Safe for Dogs?
Yes. Hemp Oil is safe for use in dogs as it's derived from the hemp variety of the cannabis plant. The reason for this is because it has 0.3% or less of THC (short for tetrahydrocannabinol) in it. Our hemp pet products contain under 0.3% THC, a very small amount that is highly unlikely to result in intoxication unless consumed in large quantities. This very small amount of THC will not affect you or your dog. 
Do Hemp Oil Treats Work for Dogs?
Yes, Hemp treats for dogs help by interacting with your pet's endocannabinoid system (ECS), the system responsible for helping to bring about balance in the body. They have been shown to help reduce anxiety and promote a sense of calm in dogs.
How many treats come in 1 bag?
There are 30 chews in each bag of Comfort Hemp Dog Chews.
Will these treats make my dog high?
No, Hemp Oil will not make your pet feel high, it's intended to help support a sense of relaxation. 
Our Full Spectrum Hemp pet products contain under 0.3% THC, a very small amount that is highly unlikely to result in intoxication unless consumed in large quantities.
How Often Should I Give My Dog Comfort Chews?
One per day for dogs under 25lbs
Two per day for dogs 25-75lbs 
Three per day for dogs 76lbs and up
Customer Reviews
04/22/2021
Janine

Canada
They work :)
We've been giving our 10 year old, Lucy, these Comfort chews for a couple months now. Safe to say we are very pleased with the results. She is much more mobile than before (Vet had told us worse joint mobility in her hips was common for breeds her age) and she seems much calmer. She's been tackling the stairs like she used to and she rarely cries! So happy to have found these, thank you!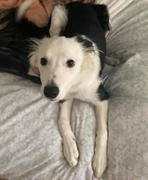 So...when we first got these...Tony wasn't too thrilled. He hesitated a bit (I figured since he was so used to Bacon treats! lol) BUT...we left them on the floor and after a bit (about 5-10 minutes) he started gobbling them up. Fast forward to NOW, and he loves them! They're our go to treat plus he almost rarely barks at the door opening now.